Activities

U.S. Federal Mediation and Conciliation Service visits Republic Agency for Peaceful Settlement of Labor Disputes
03. 07. 2018.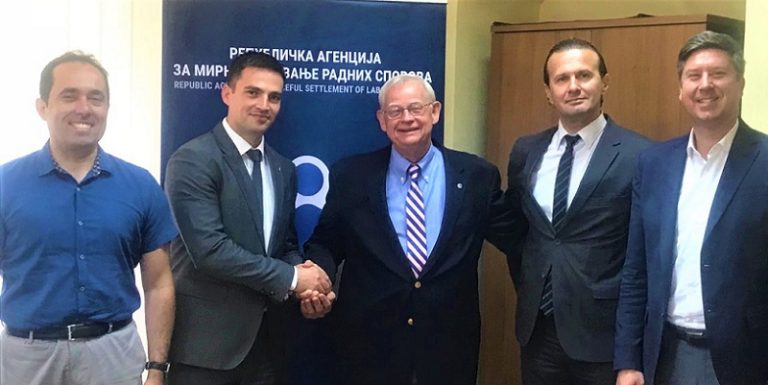 On Tuesday, July 3rd, the Republic Agency for Peaceful Settlement of Labor Disputes was pleased to host Mr. Scot Beckenbaugh, Deputy Director of the U.S. Federal Mediation and Conciliation Service. The occasion for this meeting is Mr. Beckenbaugh's participation at the annual Regional Conference of the Network of Labor Dispute Agencies, which will take place this week in Aranđelovac. Mr. Beckenbaugh visited the Agency with Dejan Gajić from the U.S. Embassy in Belgrade and Jovan Protić, National Coordinator at the International Labor Organization.
During the cordial and friendly two-hour discussion the participants exchanged experiences and examples of good practice. The attending guests had the opportunity to get familiarized with the Agency's method of operation and organization. Mr. Beckenbaugh expressed particular interest in the legislative solutions which regulated the Agency's operation. Mile Radivojević, Agency Director, stated that that was the first official meeting of the representatives of those two Agencies and as such was quite significant for the further development of collaboration and promotion of alternative forms of resolving labor disputes in the Republic of Serbia.
The collocutors concluded that today's meeting should represent merely a beginning of stronger connections and more profound relations between the two Agencies.